Perform base-driven random simulation using Nastran eigenvectors
Structural Analysis Toolkit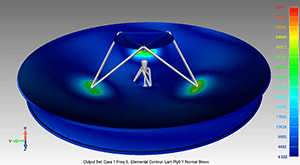 The Structural Analysis Toolkit for Nastran (SATK™) performs base-driven random simulation using Nastran eigenvectors. Its speed and accuracy are unmatched: extracting true Von Mises nodal stresses for the 980,000 node, 600,000 element model shown above, over 250 modes, and for 3 axes of vibration, took a mere 120 minutes! SATK is a game changer because:
It uses state-of-the art integration algorithms: Integration occurs over only a subset of the requested results. And you don't have to worry about specifying too few or too many integration frequencies.
It computes composite ply stresses, strains and failure metrics (failure index, strength ratio and margin of safety).
It doesn't just compute RMS Von Mises stresses and ply metrics: Its fast approximation algorithm computes true, peak results that correspond to the probability you specify!
It automatically computes stress margins of safety.
It accounts for modal truncation effects.
It's parallelized.
It uses the Nastran eigenvectors, which means the results are accurate.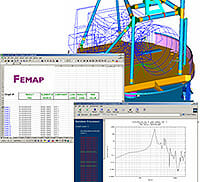 SATK also performs harmonic base excitation, extracting phase-consistent Von Mises stresses.
SATK has a powerful Nastran .op2 results file reader: it processes selected data from the op2 file, and presents the results in Microsoft® Excel, HTML, FEMAP Neutral, Universal and ASCII formats. It is particularly useful in organizing numerous, large results data blocks into meaningful summaries, thereby saving valuable post-analysis results review time.
Key benefits of SATK include:
Substantially reduces the time spent performing base excitation analysis – a factor of 2 or more is easily achieved
Fast and reliable critical design information
Increases productivity in all stages of structural analysis – from model generation through results preparation
Efficiently processes results from a large number of load cases and very large models
It integrates with NX™ and FEMAP
It supports both NX™ and MSC Nastran
"Structural Analysis Toolkit turned a 2 day analysis (200,000 elements model with 100 modes with 3 random vibe cases) using a competing product, into a 6 minute job. Well worth the investment!""
William Villers, Director of Engineering
TEN TECH LLC
Fact Sheets